"Every picture tells a story don't it!"
---
---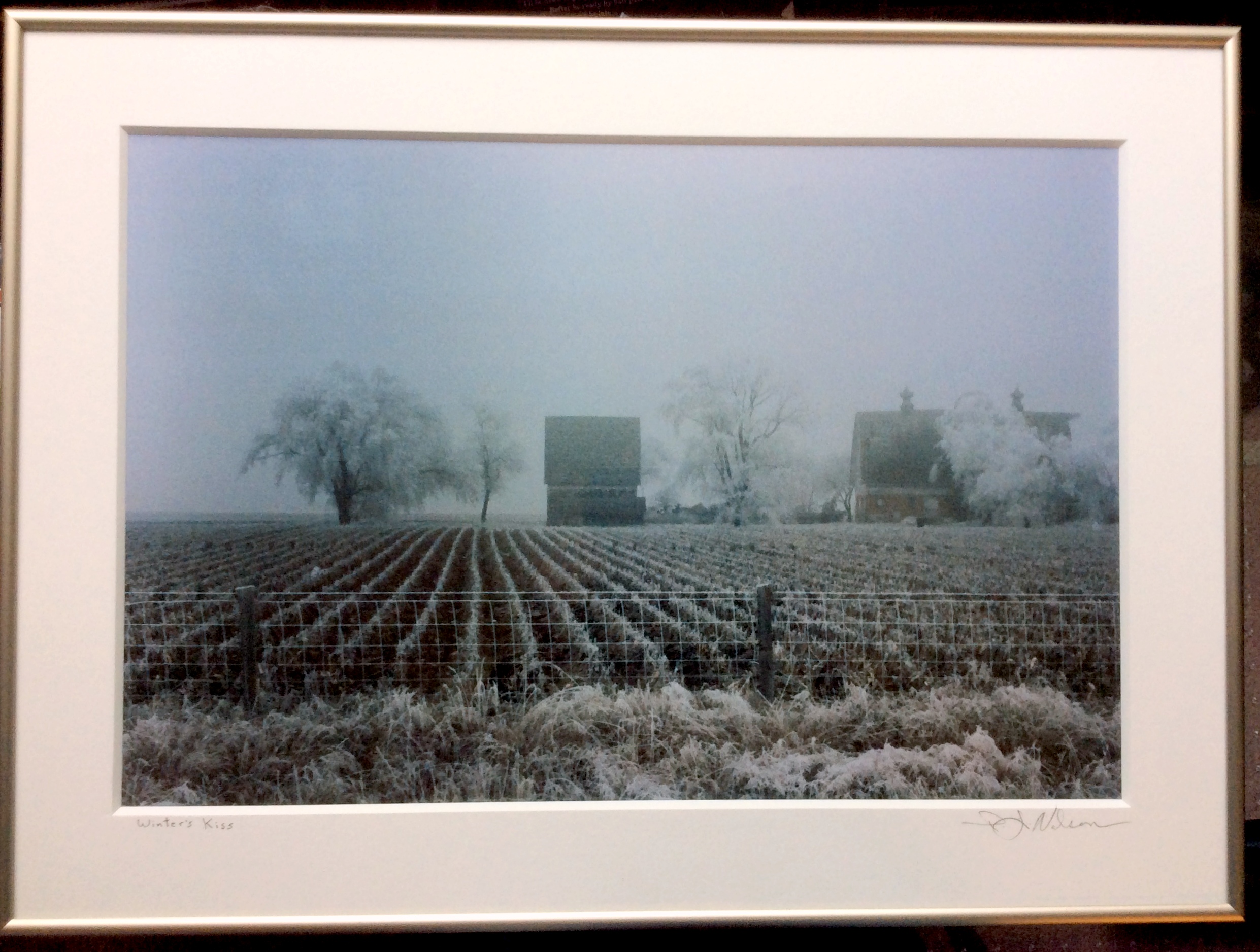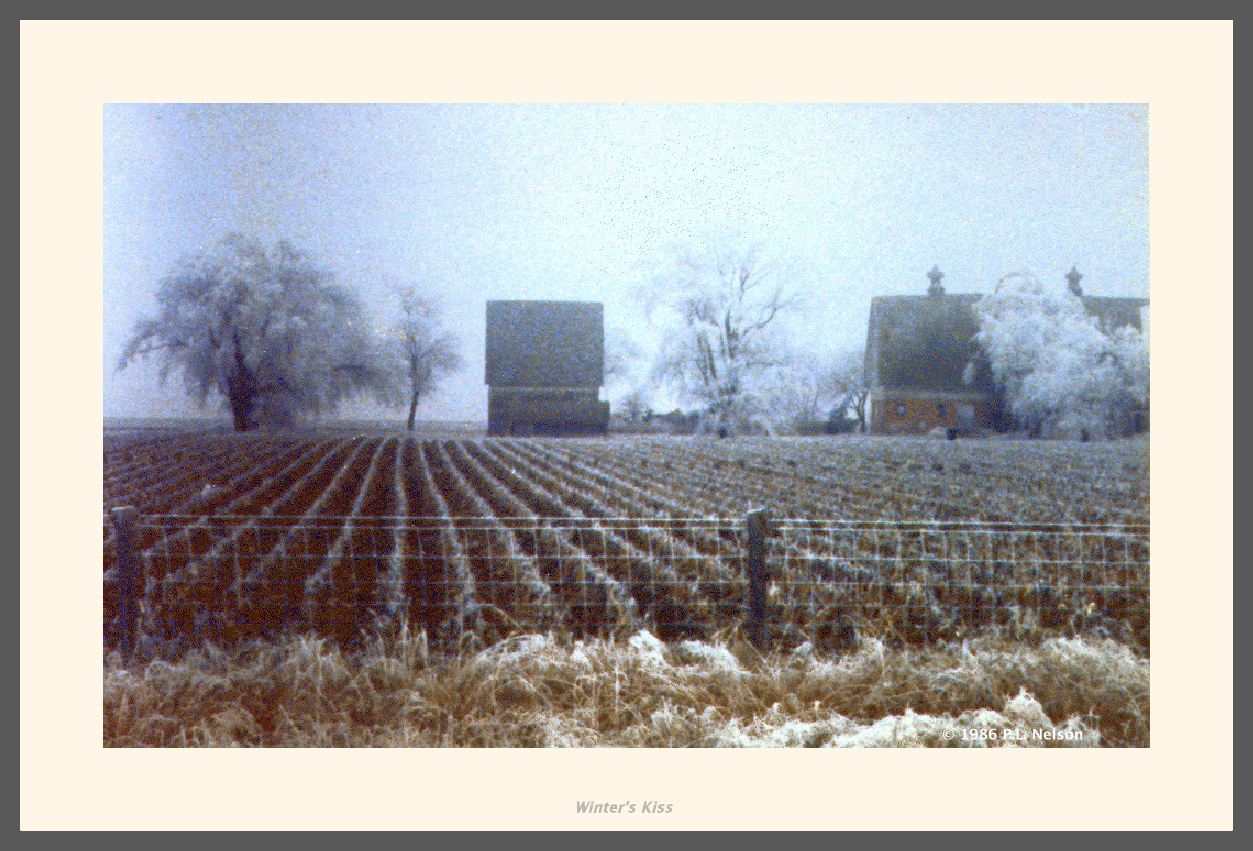 Winter's Kiss - photo of original framed piece on left (not for sale), and tweaked digital image on right

	Winter's Kiss is the very first photo I ever had printed in large format - done locally at a film 
	processing and printing studio back sometime around 1986, I think.  Forget the name, but they were 
	located next door or very near Huber's Bar on Church St. in Champaign, IL.  
	The fellow who did the print suggested a Cibachrome print due to the "color" content in the original 
	35mm slide.  I had no idea what he meant but went along with his suggestion.  
	I think I like the one on the right better, altho I'm missing a bit of the scene on the left and right 
	sides of the digital copy.  Guess I'll have to dig out the original slide and redo.
	It's somewhere in the basement in its own little plastic 35mm slide box hiding from the light and me.
	And yes, there really was a shaft of sunlight breaking thru the clouds right in the middle of the frame.

	I decided to enter the original framed print (18"x24") in the Champaign Town & Country Art Show in 1988.  
	It garnered a Blue Ribbon.  There's much more of an interesting story behind this, my first foray into 
	printing, matting, and framing a picture, but it will not fit here.  
	I'll make a link to the full story at some point.

---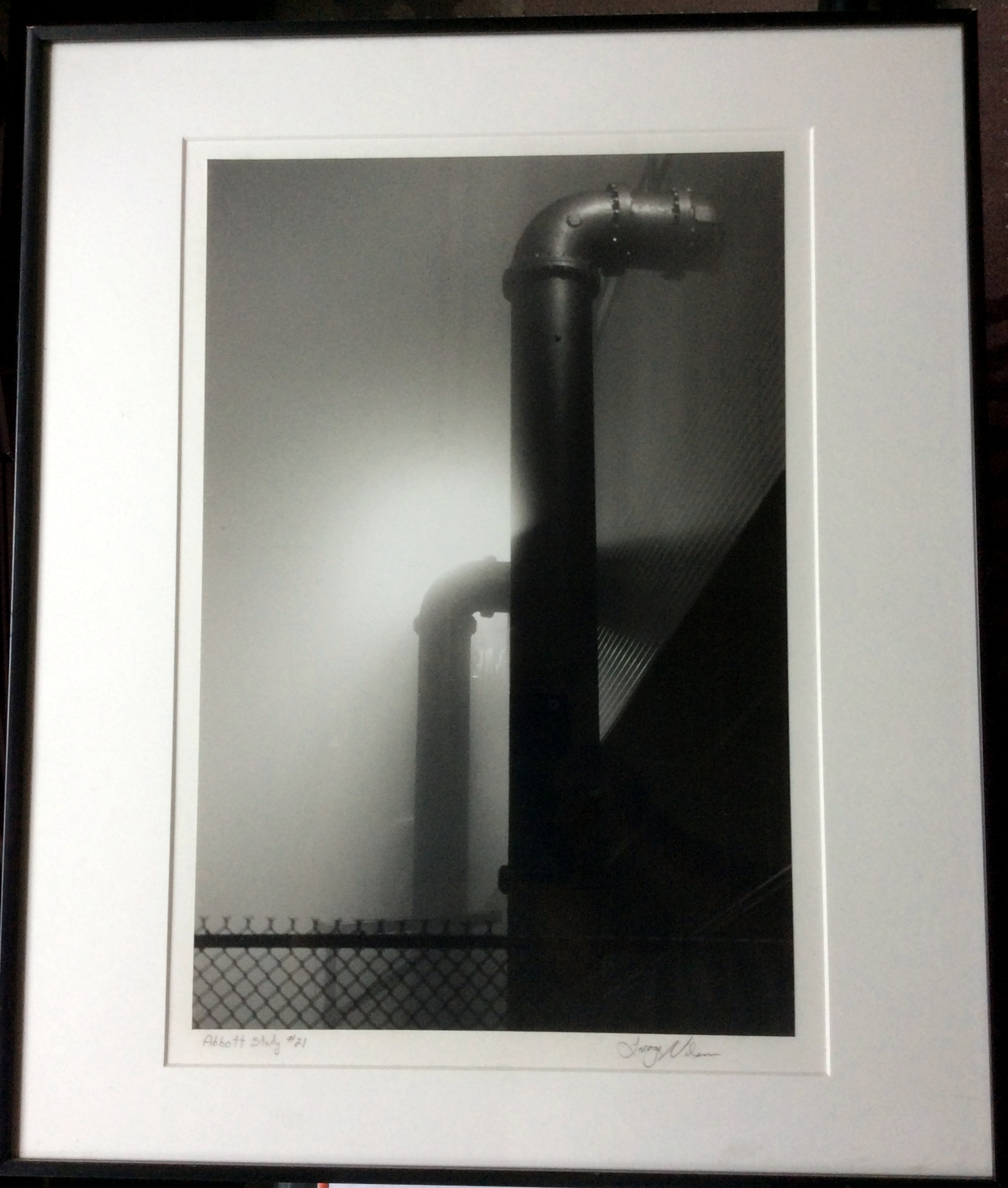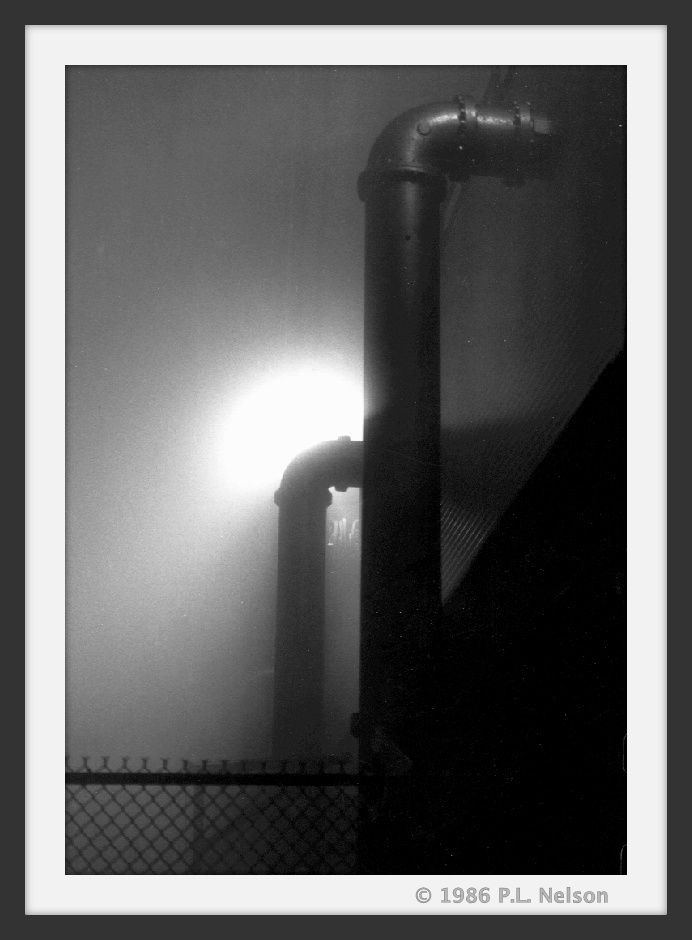 Abbott Study #21 - photo of original framed piece on left (not for sale), tweaked digital image on right

	Abbot Study #21, so named because it was the 21st negative on the B&W film roll, was another entry
	the following year in the Champaign Town & Country Art Show (1989).  It also garnered a Blue Ribbon and
	First Place in 2D (photos and paintings).  That qualified it for the State (IL.) Town & Country
	Art Show and garnered First Place (in 2D) and Best of Show.  Abbott, if you are not a Champaign-Urbana
	resident, is the Abbott Power Plant for the University of Illinois.  This picture, too, has a rather
	um, bizarre story behind it.  Another link at some point to the tale. 
	(Teaser: I was drunk when I took it! - wasn't even my camera! Go figure...)

---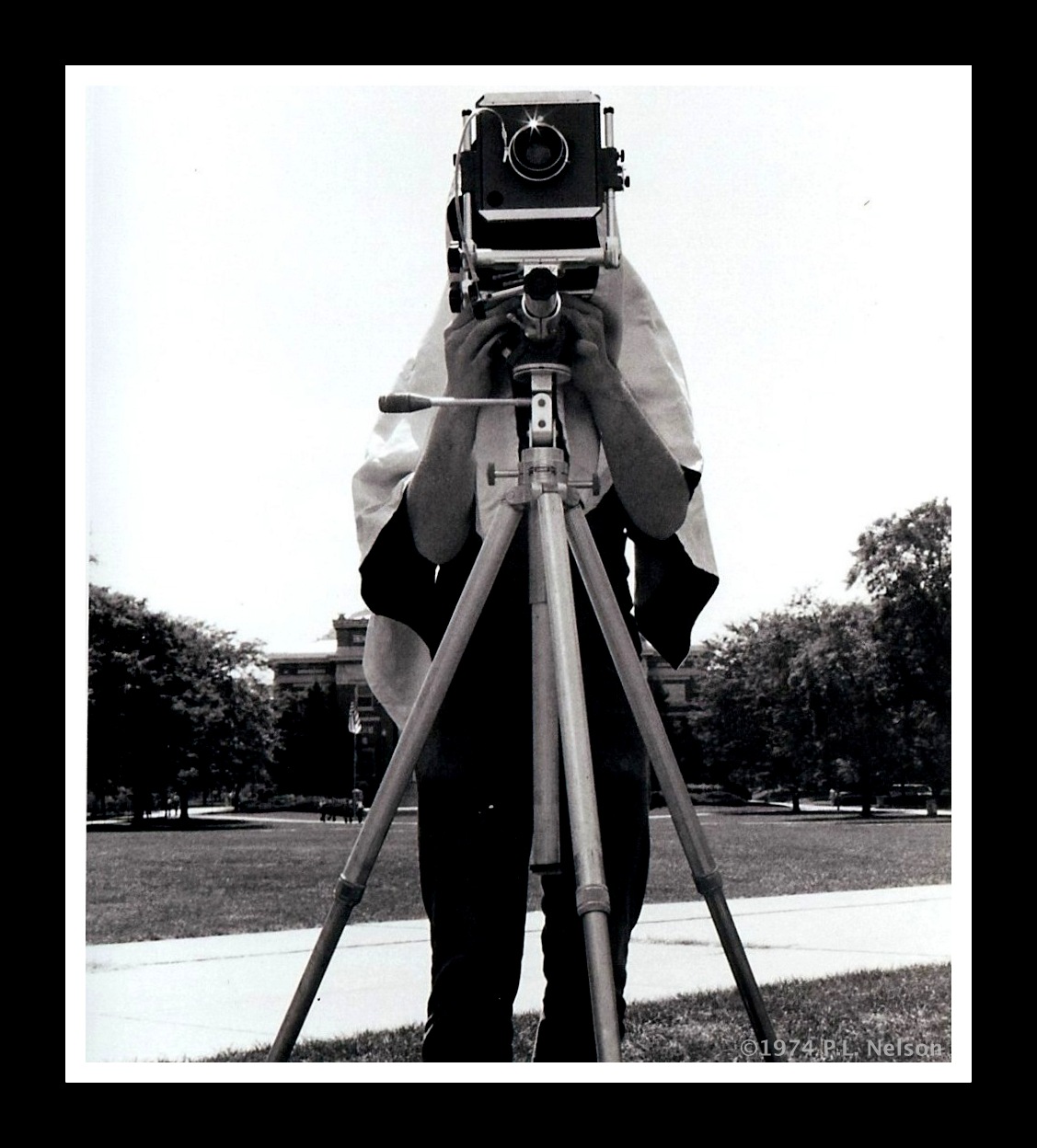 Lamkey's Sinar

"Pay no attention to the man behind the curtain"

	This may be one of my earliest photos that I've done anything with.  I think 1974, and taken with
	my new Fujica ST701 - playing around with lenses and such.  My good friend, apartment neighbor and fellow
	ex-Air Force pal and pseudo photog-mentor, Daryl J. Lamkey, was/is a pro photographer.  He had a Leica
	and this amazing Sinar P camera.  We were on the quad of the campus of the U of I searching out interesting
	shots when I decided to turn the tables and get this shot of him behind the Sinar curtain.  He let me try
	it a few times.  Bizarre, since what you see in the very large viewfinder is upside down!  I just really
	like the composition.

---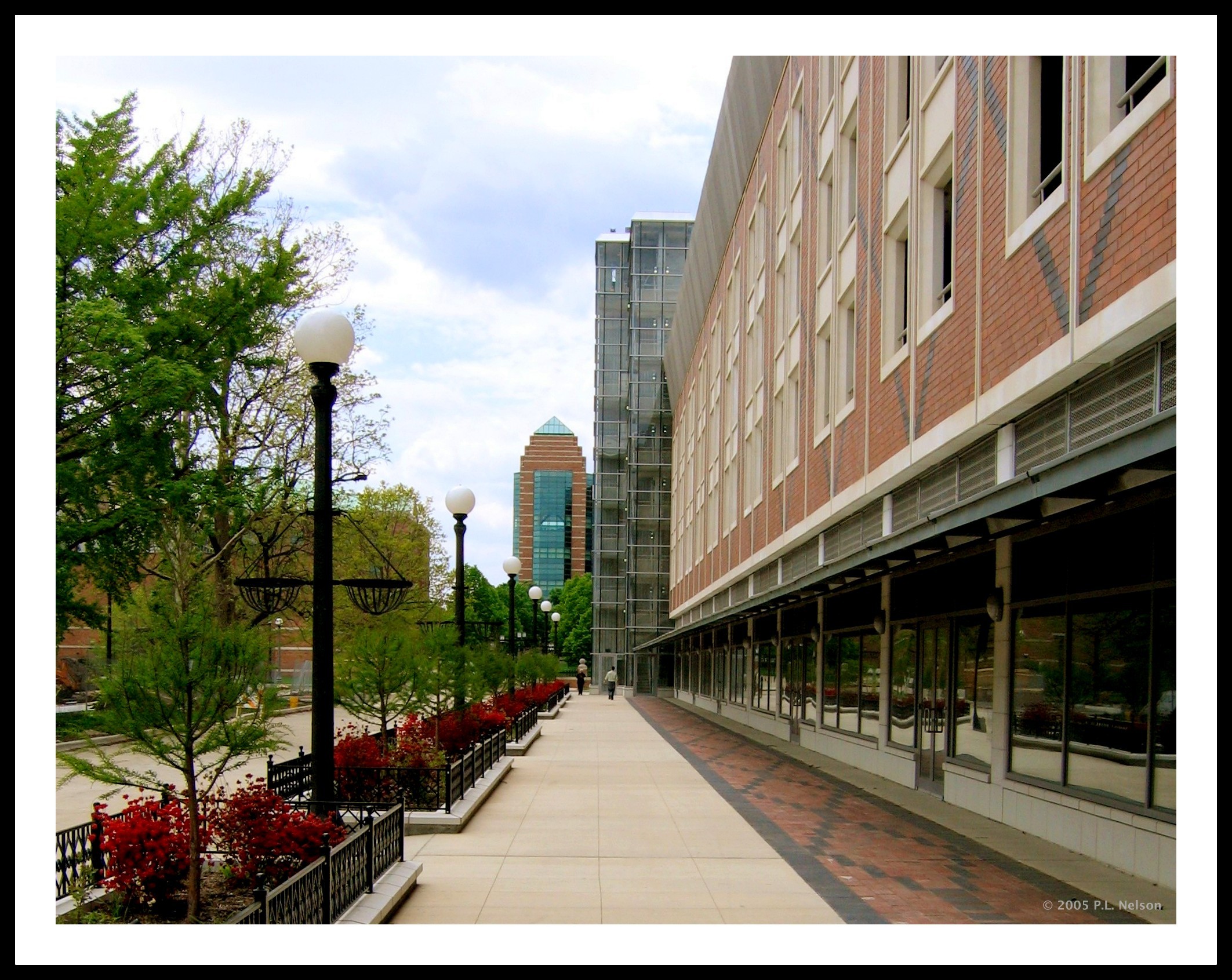 Beckman Point

	Just an interesting architectural shot of the tower of the Beckman Institute on the campus of the U of I.

---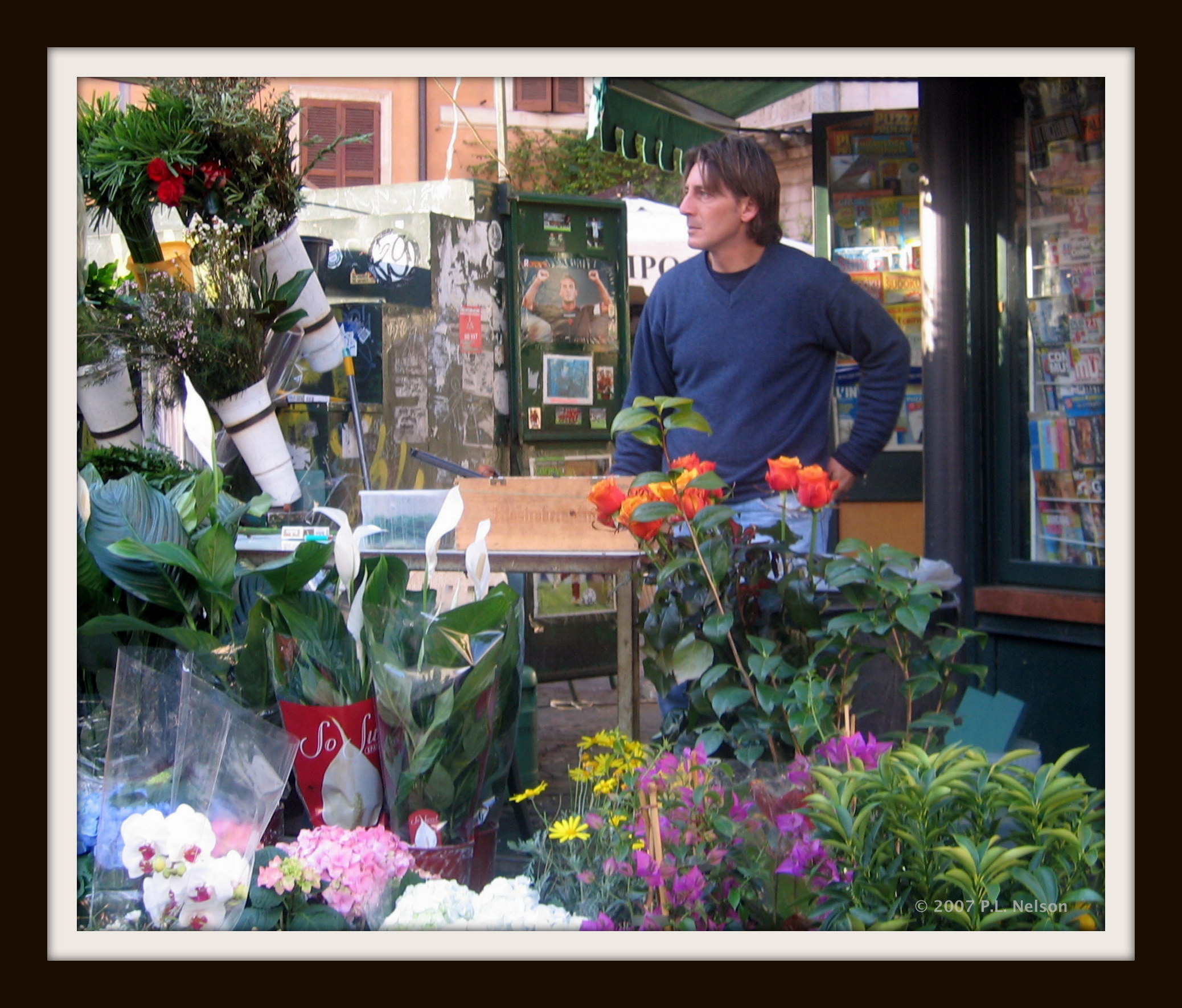 Piazza Navona

        This was taken during our March 2007 Rome trip.  A flower vendor on the Piazza Navona.

---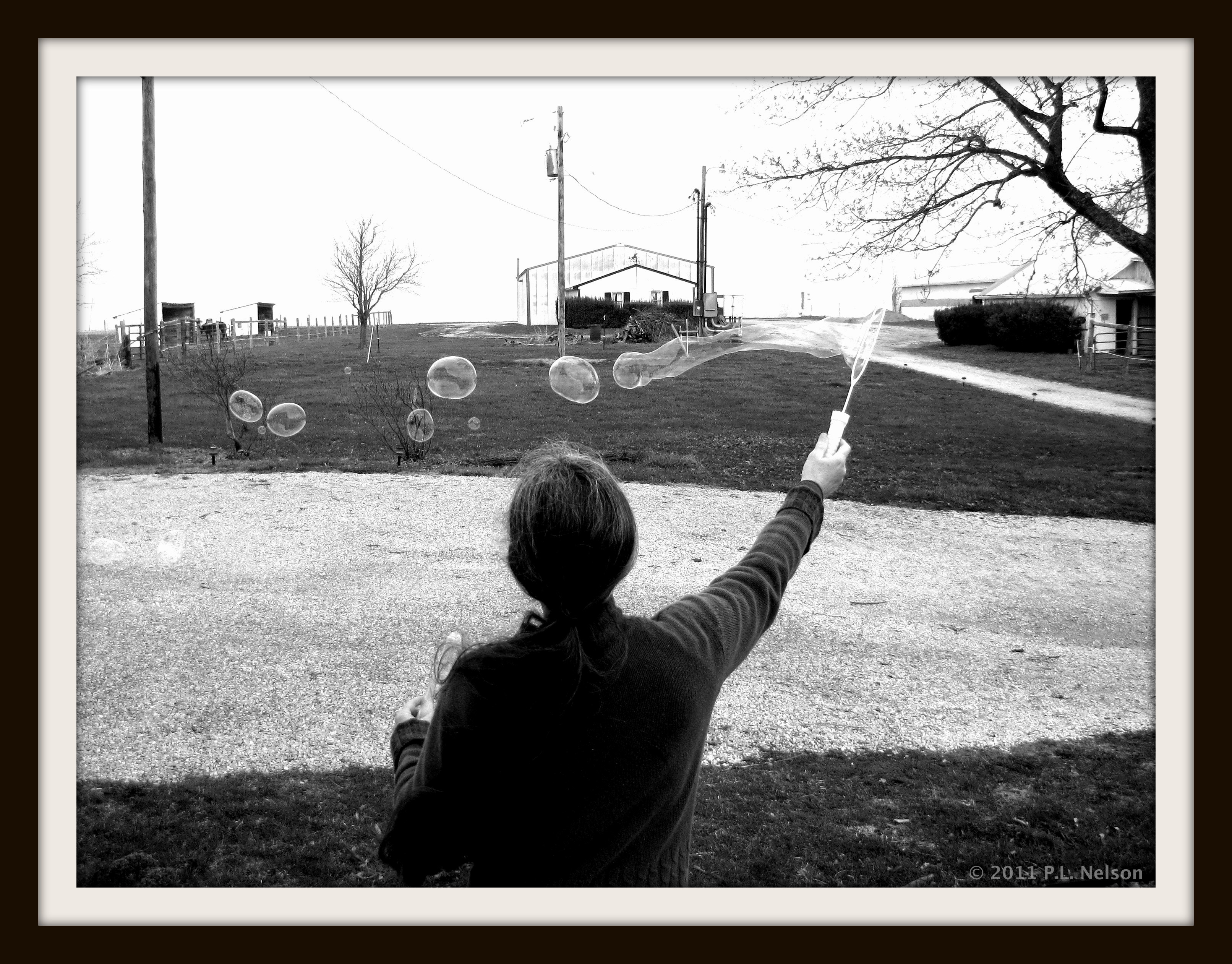 Pam's Bubbles

        I took this on our horse farm in 2014 of my wife having some fun with the bubble thing.  
	Again, I just liked the simple composition.  A simple visual story.

---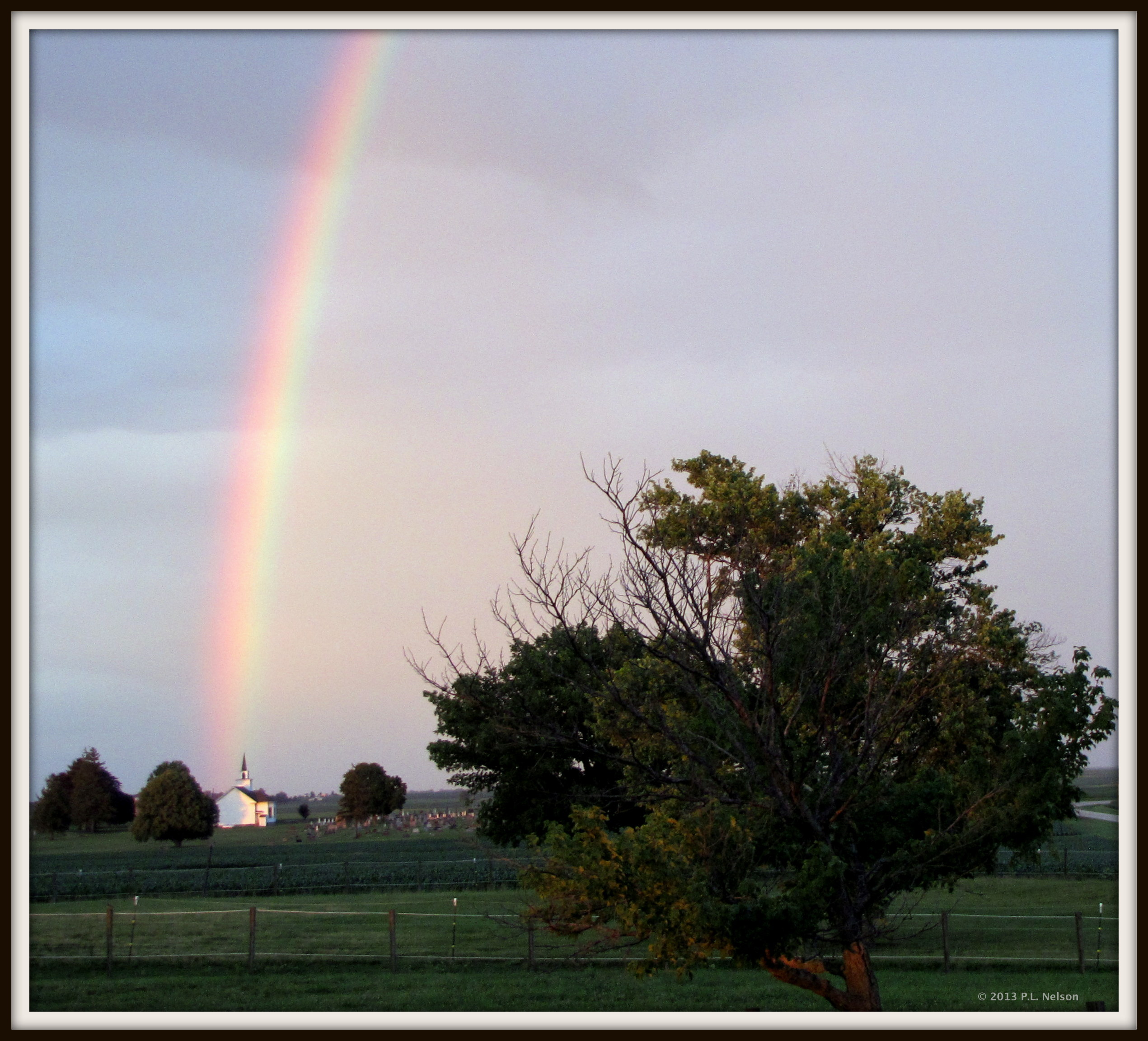 Stairway To Heaven

        I took this one on a late afternoon on our horse farm in 2013.  We were witness to uncountable rainbows
	when we lived there.  You can only take so many of them, plus everybody takes rainbow pictures, but how
	many times can you get one with the end of the rainbow falling on a church?

---
A couple of sunsets

        The one on the left was south in rural Champaign County at a friend's horse farm.  A December 2015 sunset.  
	Just happened to have my camera!  I do not believe I tweaked anything on this photo.
	The one on the right is one from our farm a couple months after we moved there.  An October 2007 sunset.  
	No tweaking here, either.  That's what they looked like.
	And yes, everybody takes sunset pictures, too.  I just think these are cool ones, especially when enlarged
	to 16"x20" and framed and hanging on a wall.


---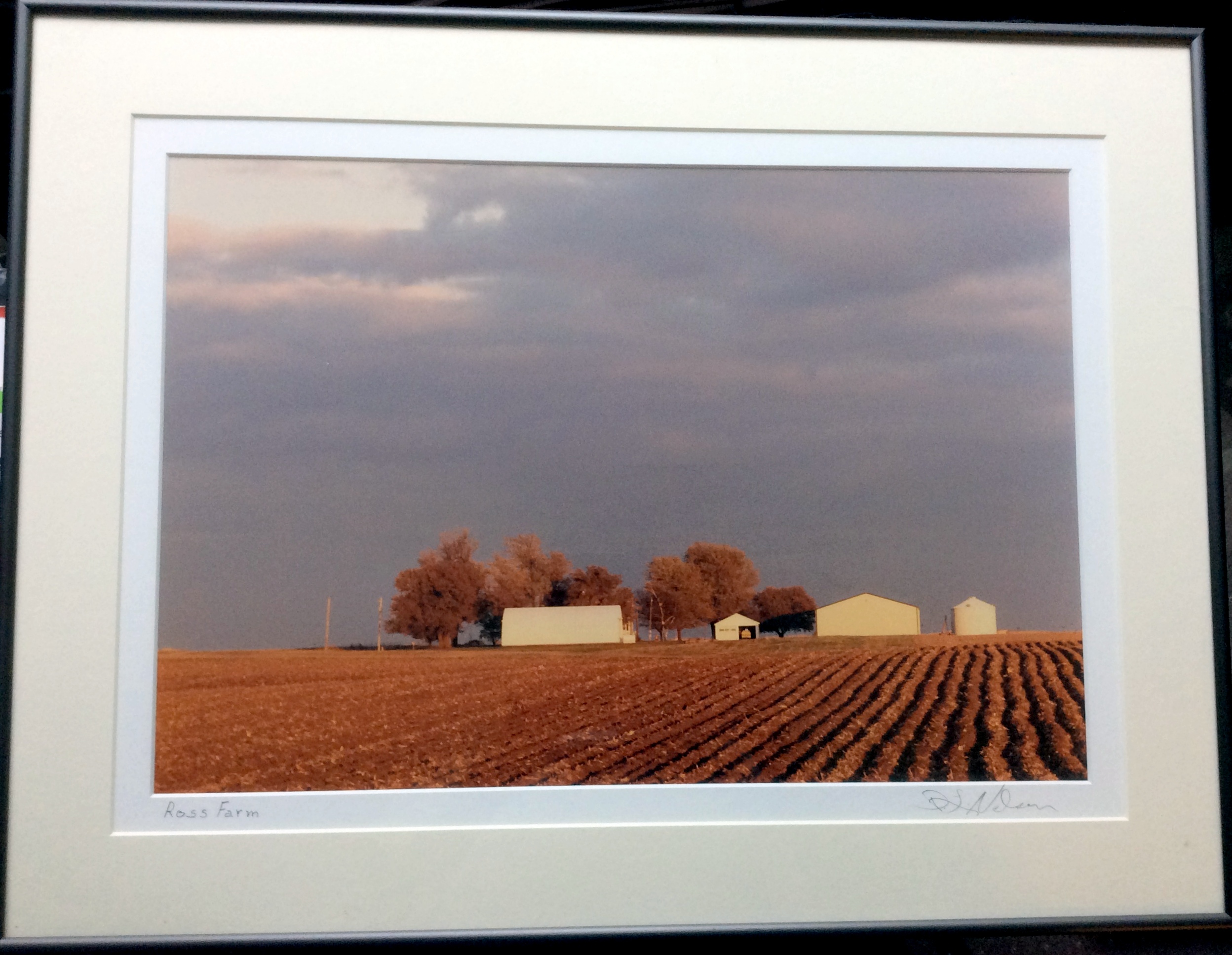 Ross Farm

	This is a photo (circa 1987) of the original framed and signed picture I took of Ross Farm, a farm south of 
	Champaign, IL on Duncan Road I took on a late afternoon as the sun peeked out and lit up the field, outbuildings
	and the approaching clouds.  At first I didn't know who owned the property, so later, with a copy of the print 
	in hand, (still untitled) I stopped and spoke with the folks who lived there and found out they were the Ross's.
	I gave them the copy I had brought with me.  They liked it.  Made me happy.

---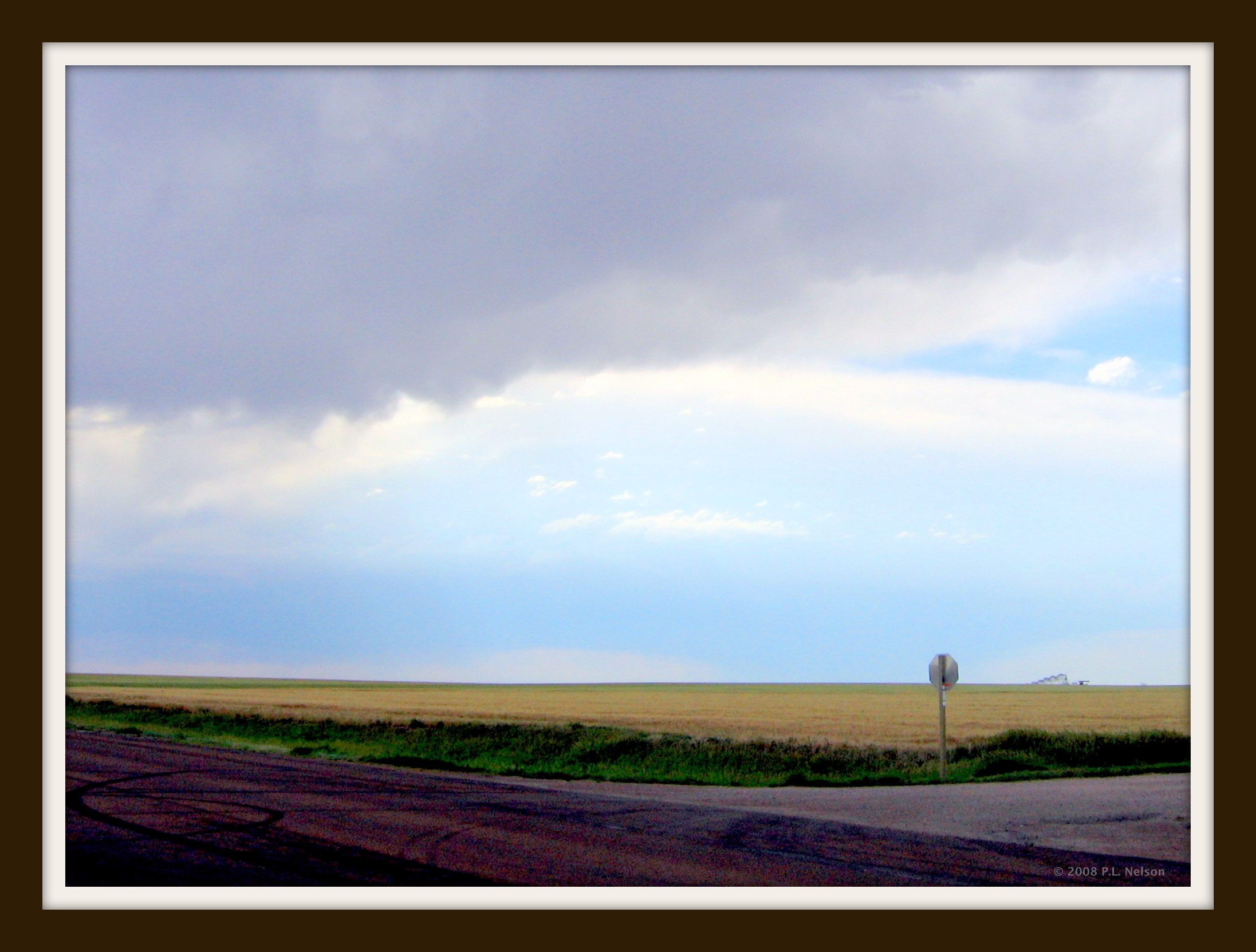 Anton

        On our way to Denver from Champaign on US 36 in 2008.  Stopped at Anton, CO, for gas.  A tiny tiny community
	in the wild open spaces of Eastern Colorado.  At the gas station, which was about all that was there, I turned 
	to look southeast and saw this.  I immediately thought of both Billy Morrow Jackson and Larry Kanfer.  
	Consider it an homage to both of their artistry.

---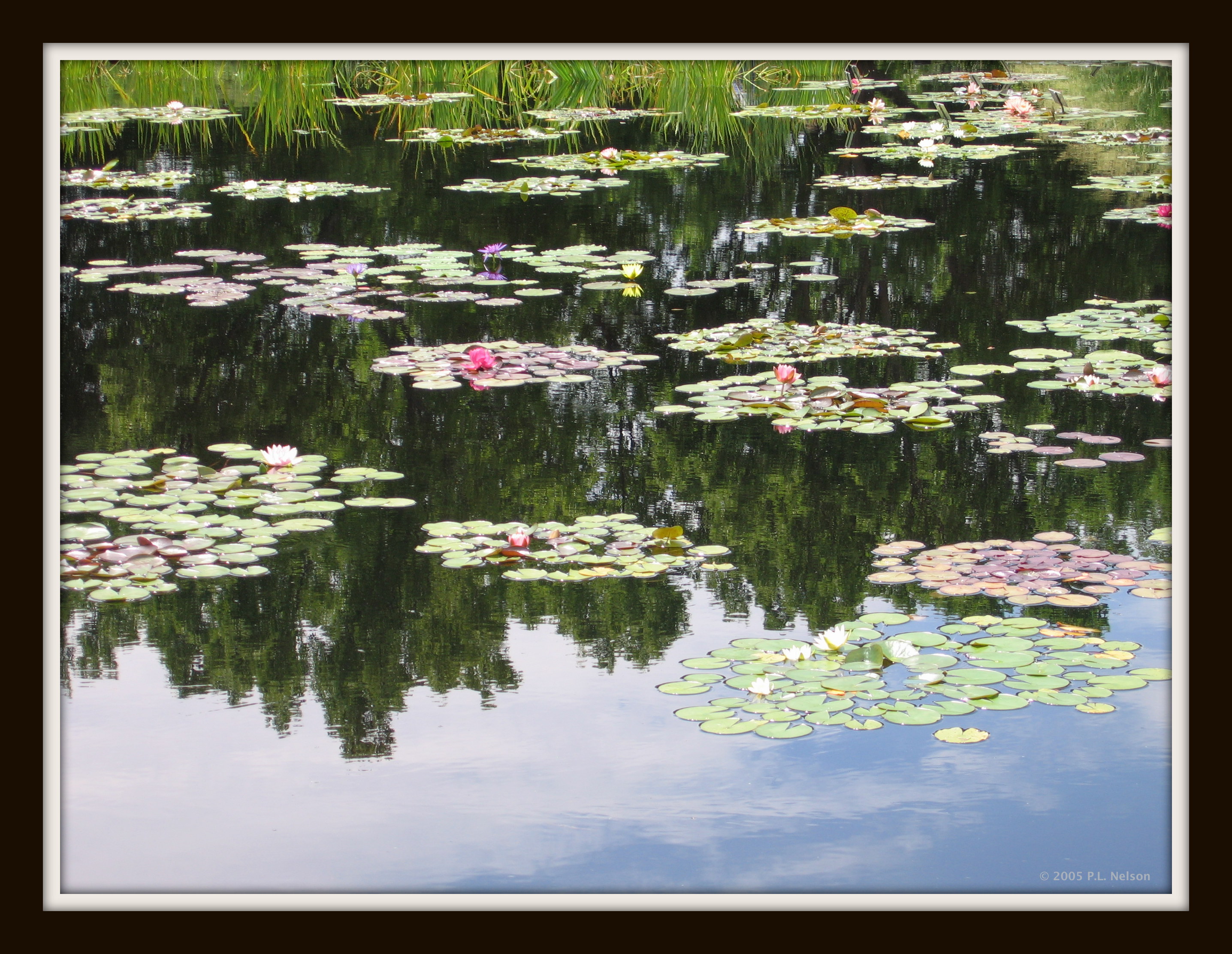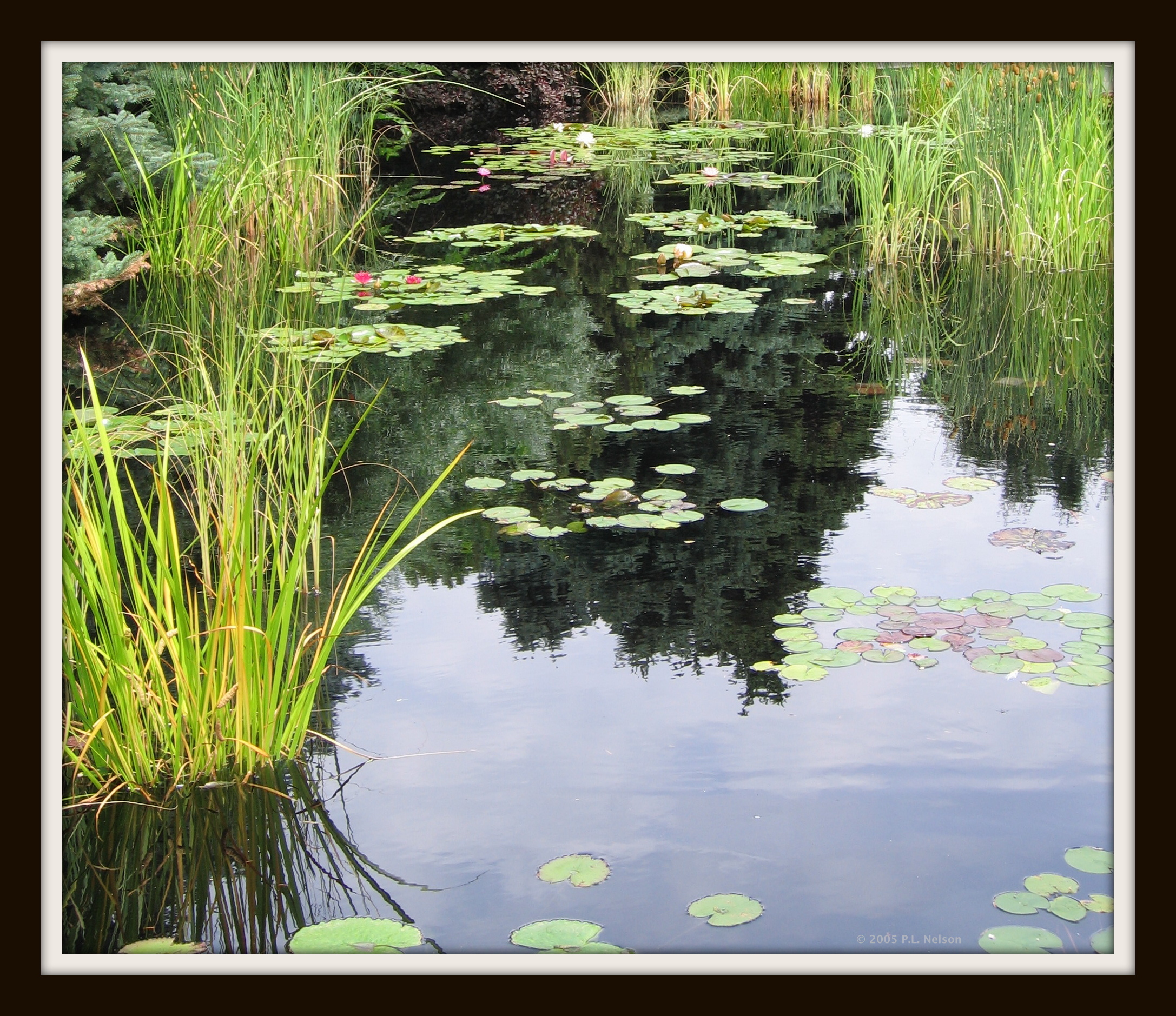 Not Monet

	These are not Monet, though certainly inspired by the Master.
	Taken at the Denver Botantical Gardens in 2005.

---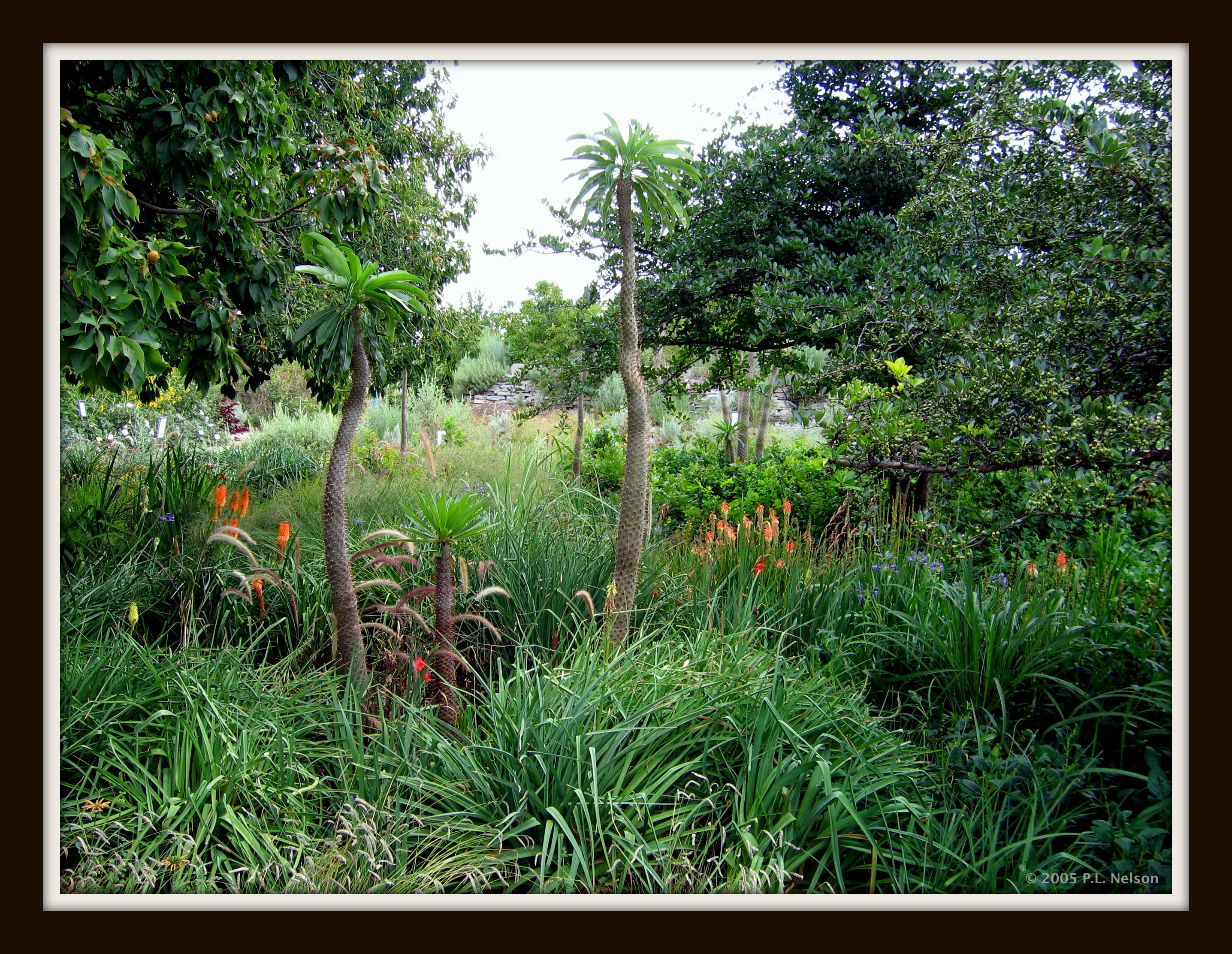 Not Rousseau

        This is not a Henri Rousseau, though it does remind me of some of his "jungle" and "forest" works.
        It's just missing a lion or apes and snakes.  This also taken at the Denver Botantical Gardens in 2005.

---
Abstract No. Rorschach

	This one just appeals to the bizarre part of me.  An abstract taken, of all places, on our garage floor
	after snow/ice gunk under the car fell, melted, then froze again.  See whatever you want to see in it.

---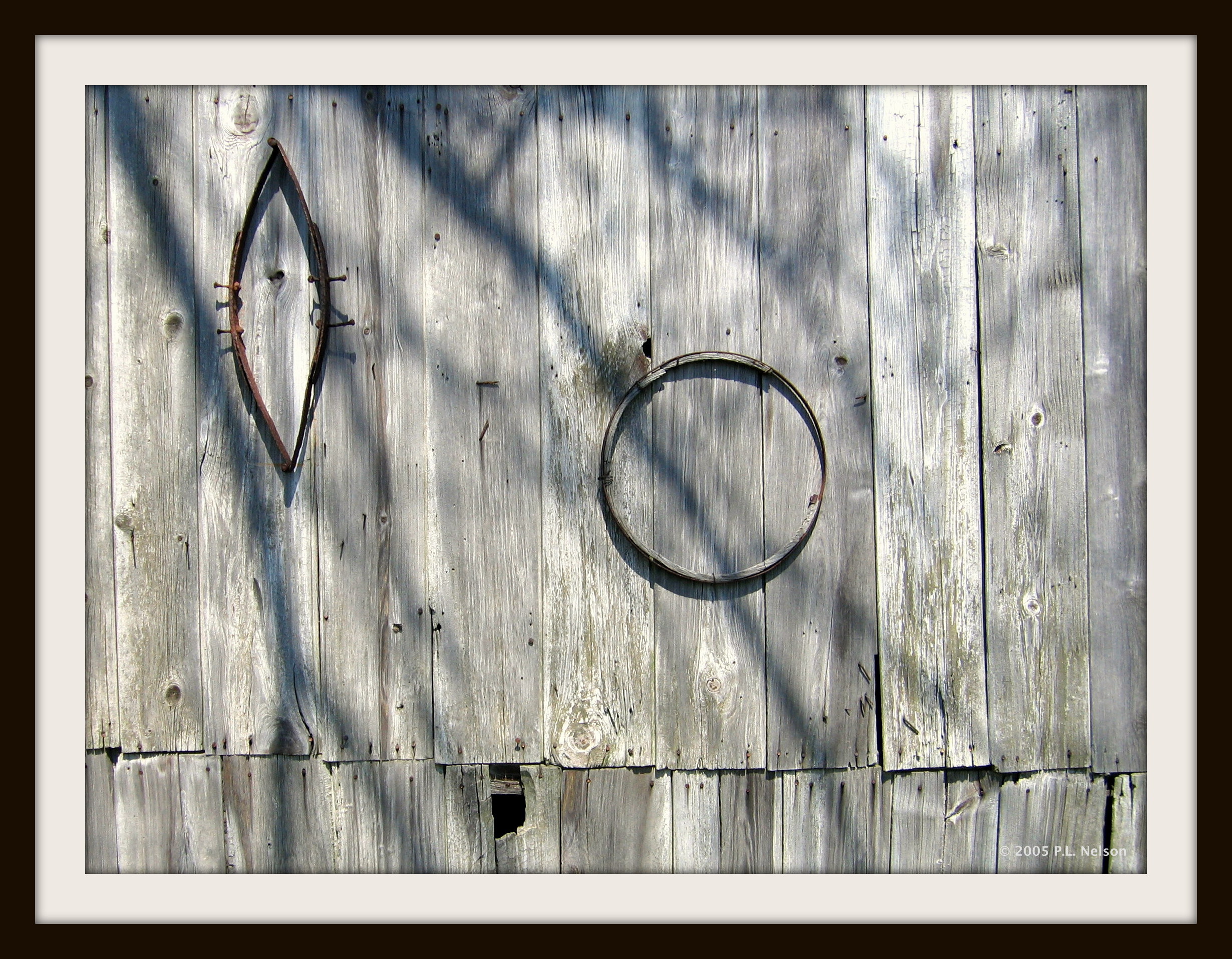 Kat's Barn

        Barn side at our friends' Kat and Rachelle - 2005 - near Hindsboro, IL.

---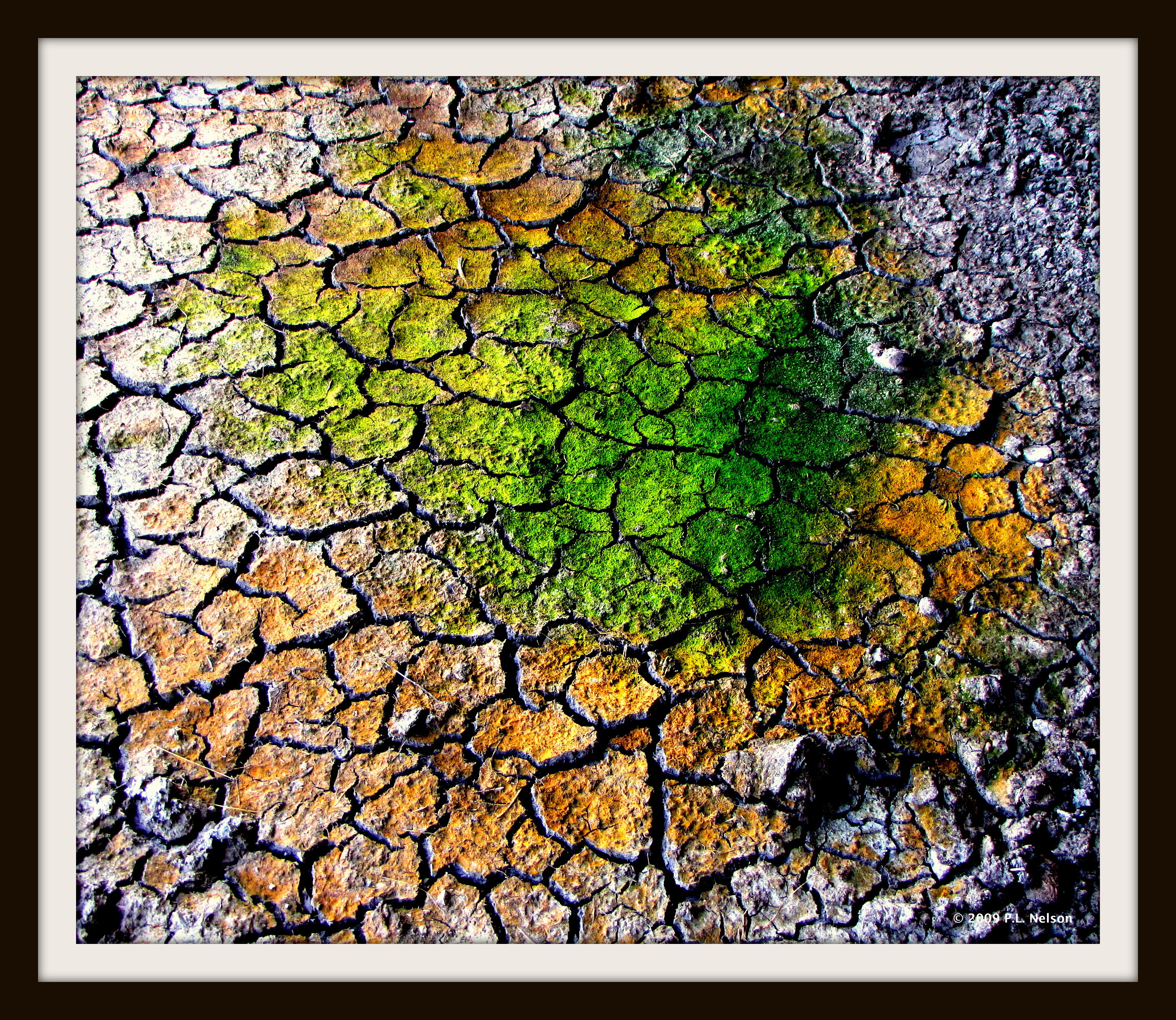 Horse Art

	Interesting abstract with bizarre colors.  One or more of our horses did this.  
	I leave it to the viewer to ponder what they actually did.

---
Sunset Over Riggins' Farm

        The Riggins place, our farm neighbors to the SW.  Took this in 2010 from my vineyard pasture.

---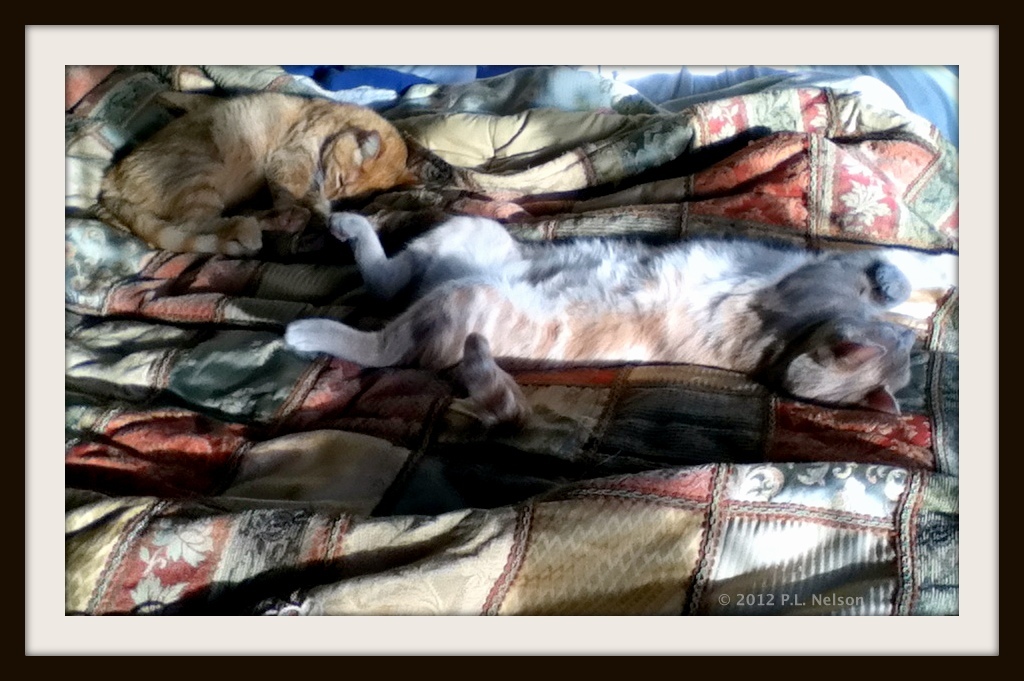 Afternoon Napsters

        If you have cats, and are a photographer, you take lots and lots of cat shots.  Well, even if you're
	not a photographer.  Mostly they are boring except for the cats' humans who want to share each and every
	one of them with you.  Cat photos somehow just aren't as interesting as cat videos.  
	Having said that, I couldn't resist putting this one up.  My wife says it reminds her of a Klimt.
	It reminds me a bit of some of the works of the late local artist, David Bushman (R.I.P.).

---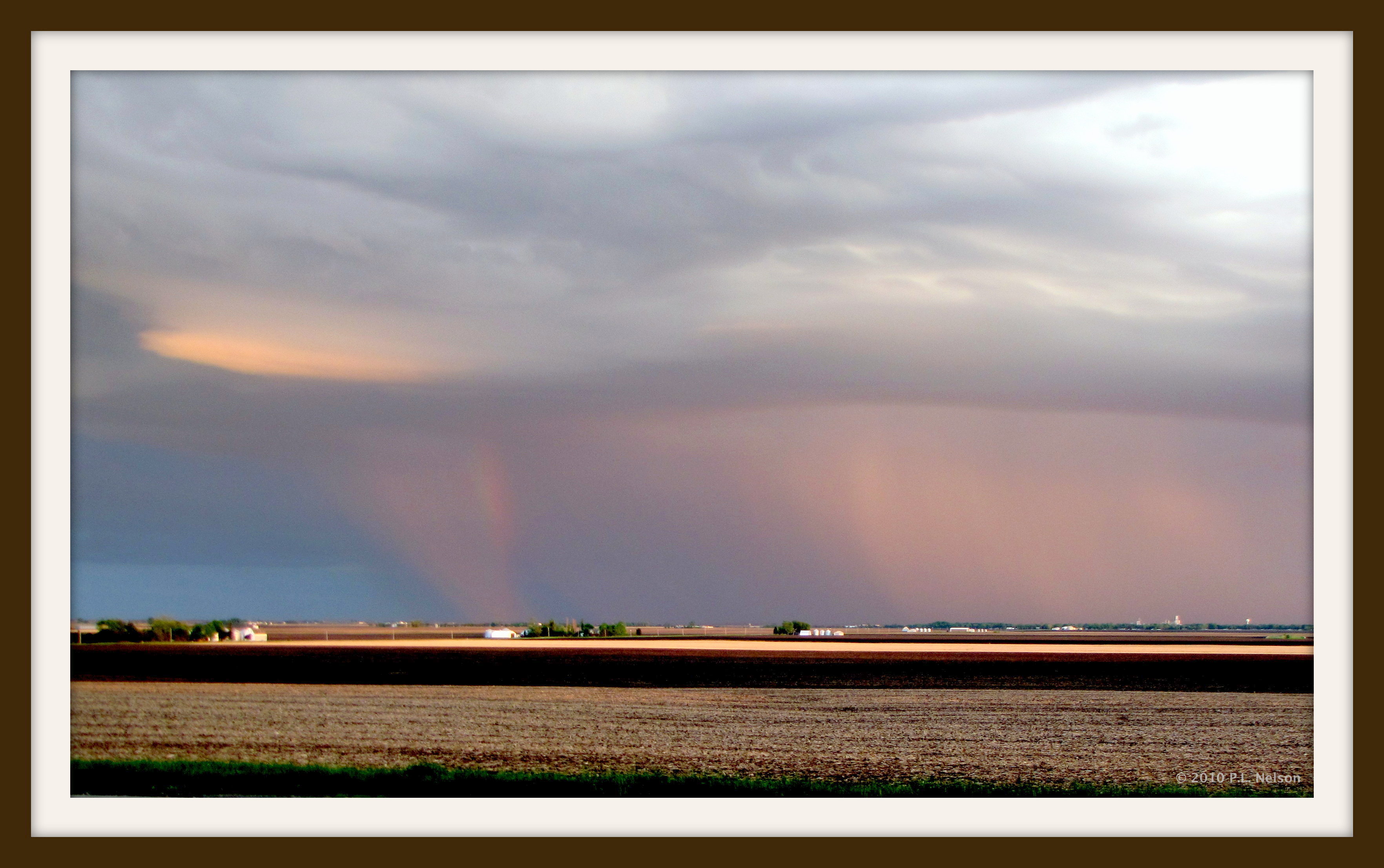 Drenching Hume

        I took several of this scene in a row - a drenching rain storm that appears to be right over Hume, IL.
	All pix in the sequence are very similar, but I think I like this one the best.  You can also see
	a faint bit of a rainbow right over the 2nd-from-the-left farmstead.  Shot May 3, 2010.

---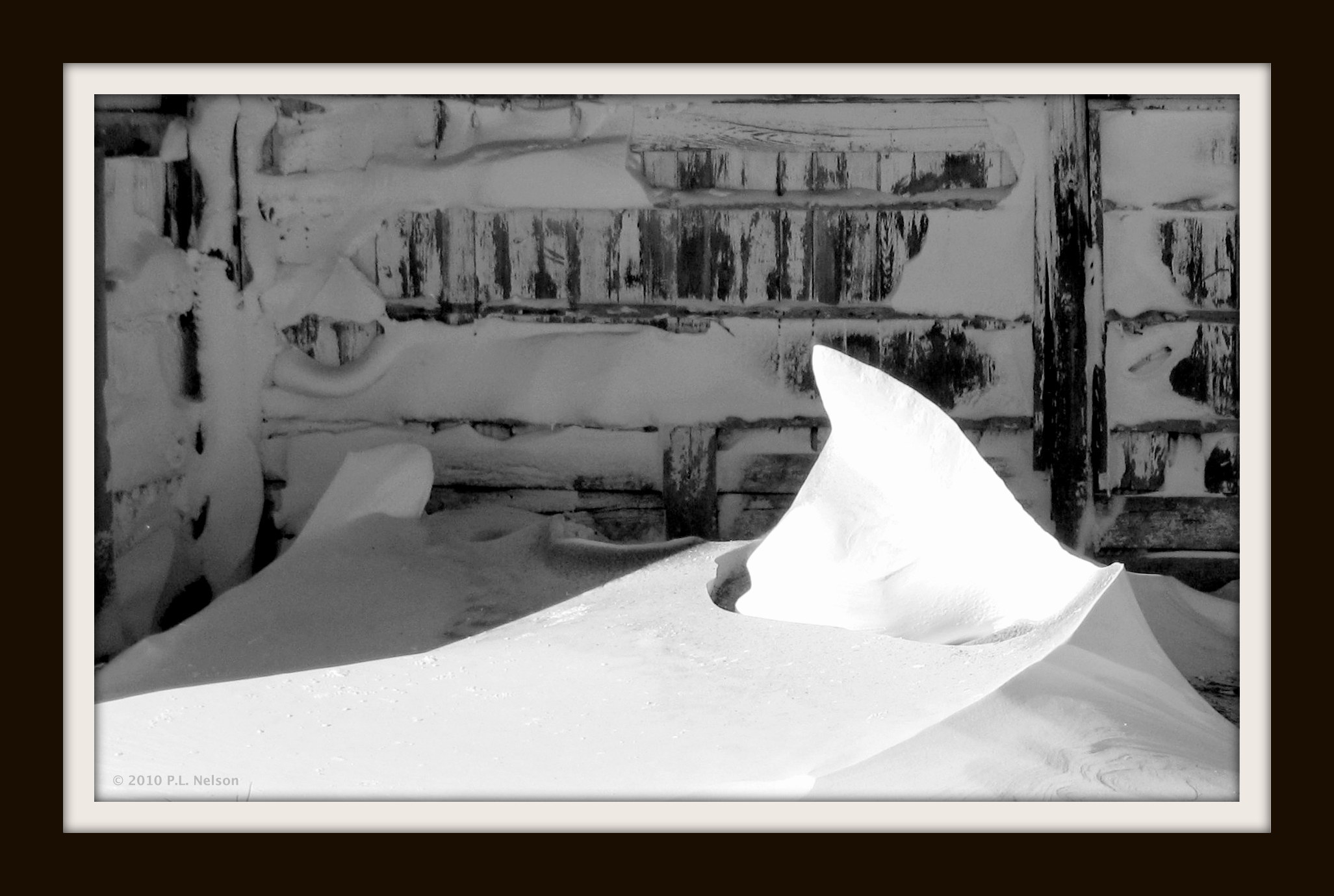 Snow Shark

        Whimsical, post-blizzard of 2010 snow sculpture I call the Snow Shark 
	nestled inside one of the horse lean-to's. 

---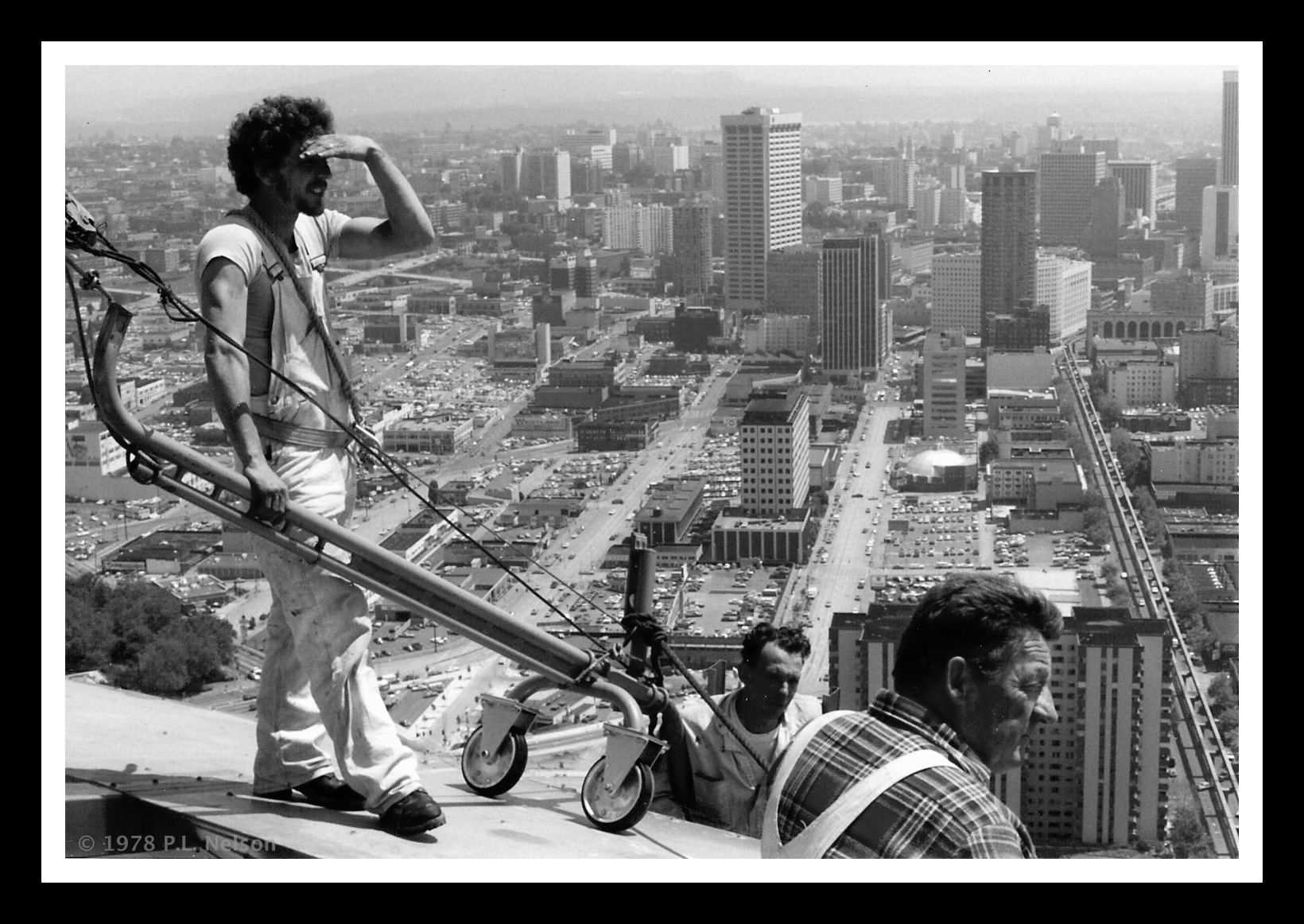 Lofty Lunch Break

        I doubt that the previous "Snow Shark" gave you the willies, but this photo I took in 1978 from the
	observation deck of the Seattle Space Needle always gives me shudders.  Yes, they have security harnesses
	on, but still...  They were taking a lunch break!  OUT THERE!  Um, why not come back inside and eat, guys!
	For me the tension in the picture as a voyeur is palpable.  
	I don't think that anyone with acrophobia would buy this. But ya never know.
	Plus one wonders what they were staring at.  There's a story in there somewhere...  

---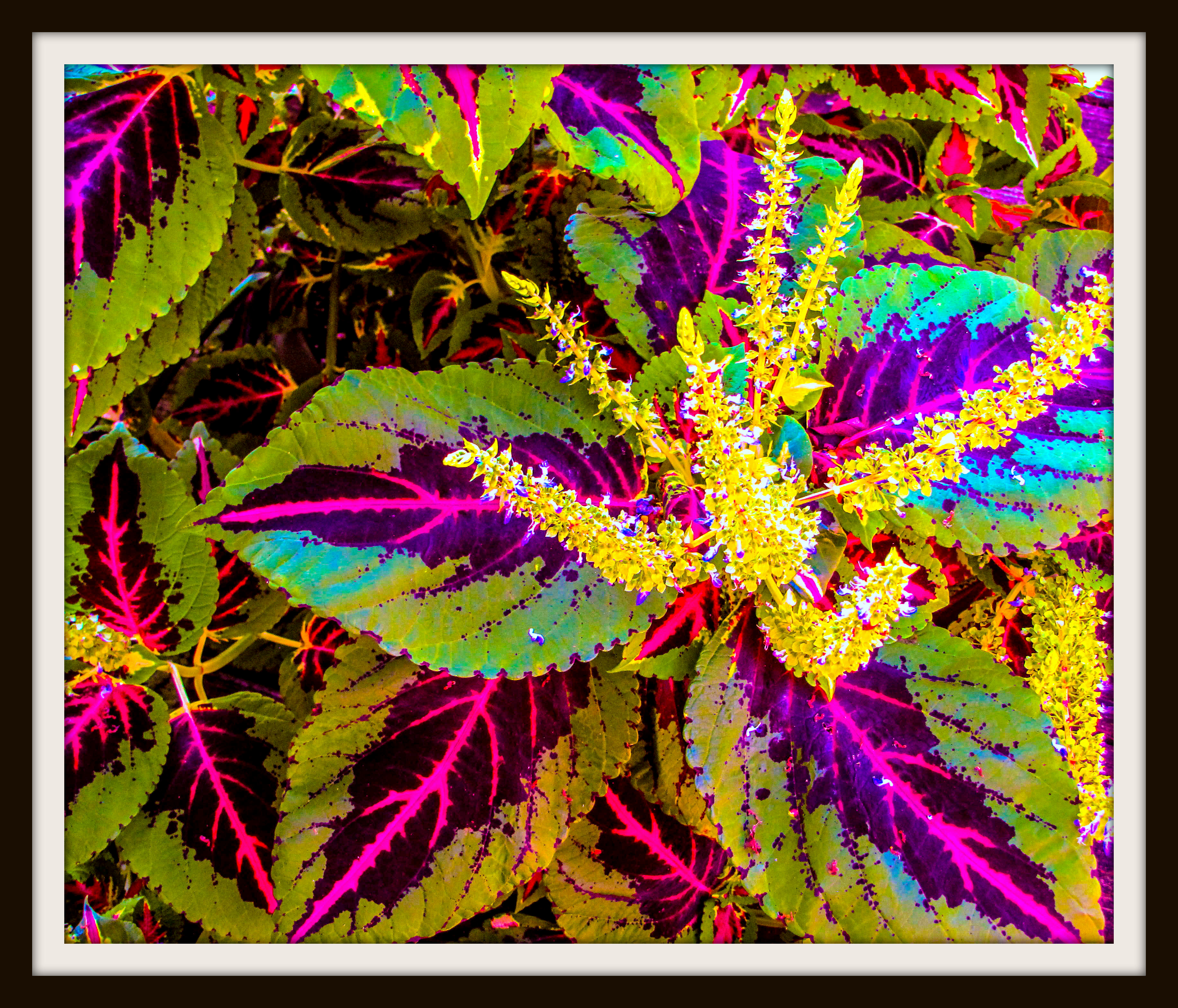 Coleus

        One of our many Coleus plants.

---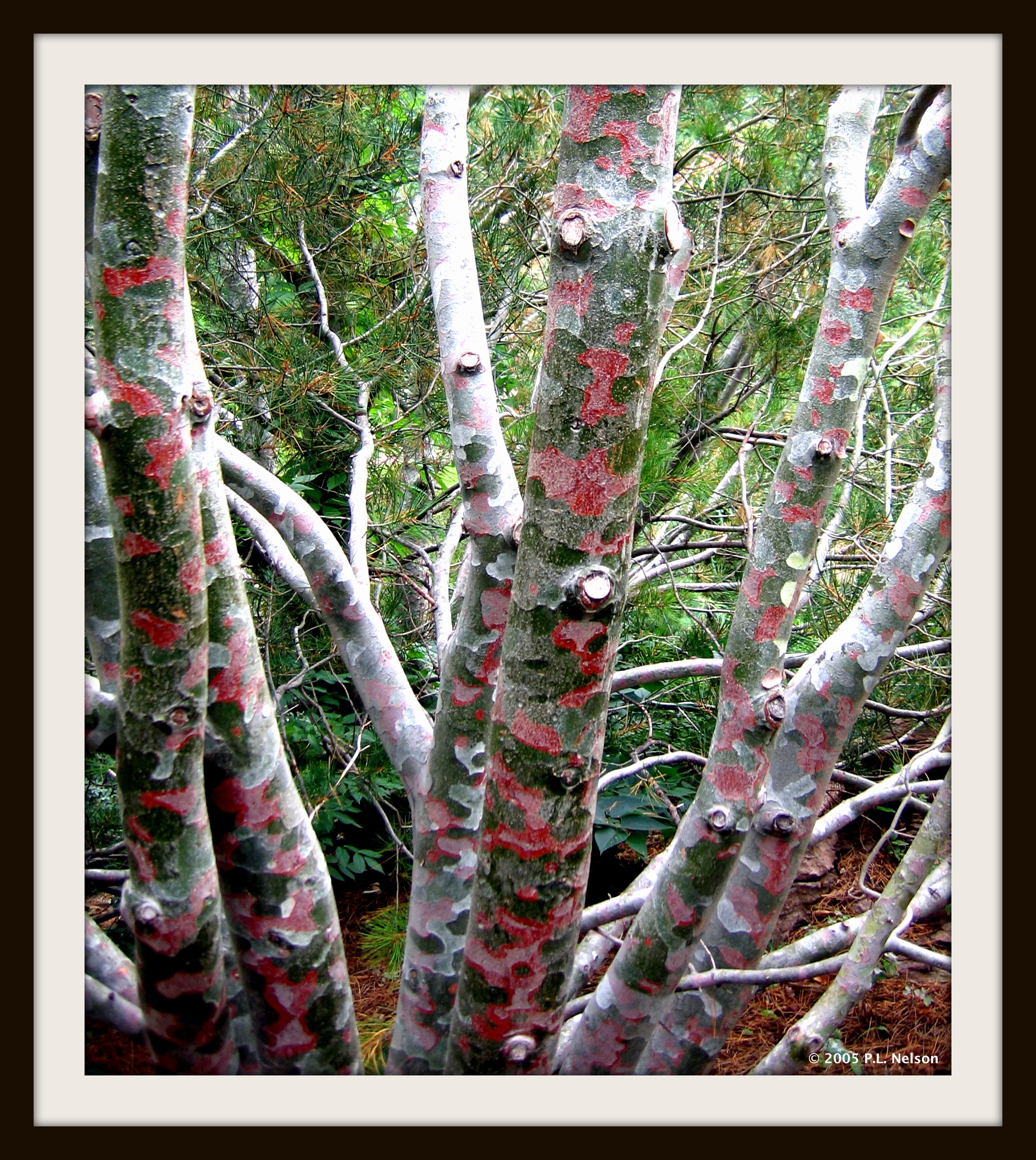 DBG Trees

        Some trees at Denver Botanical Gardens

---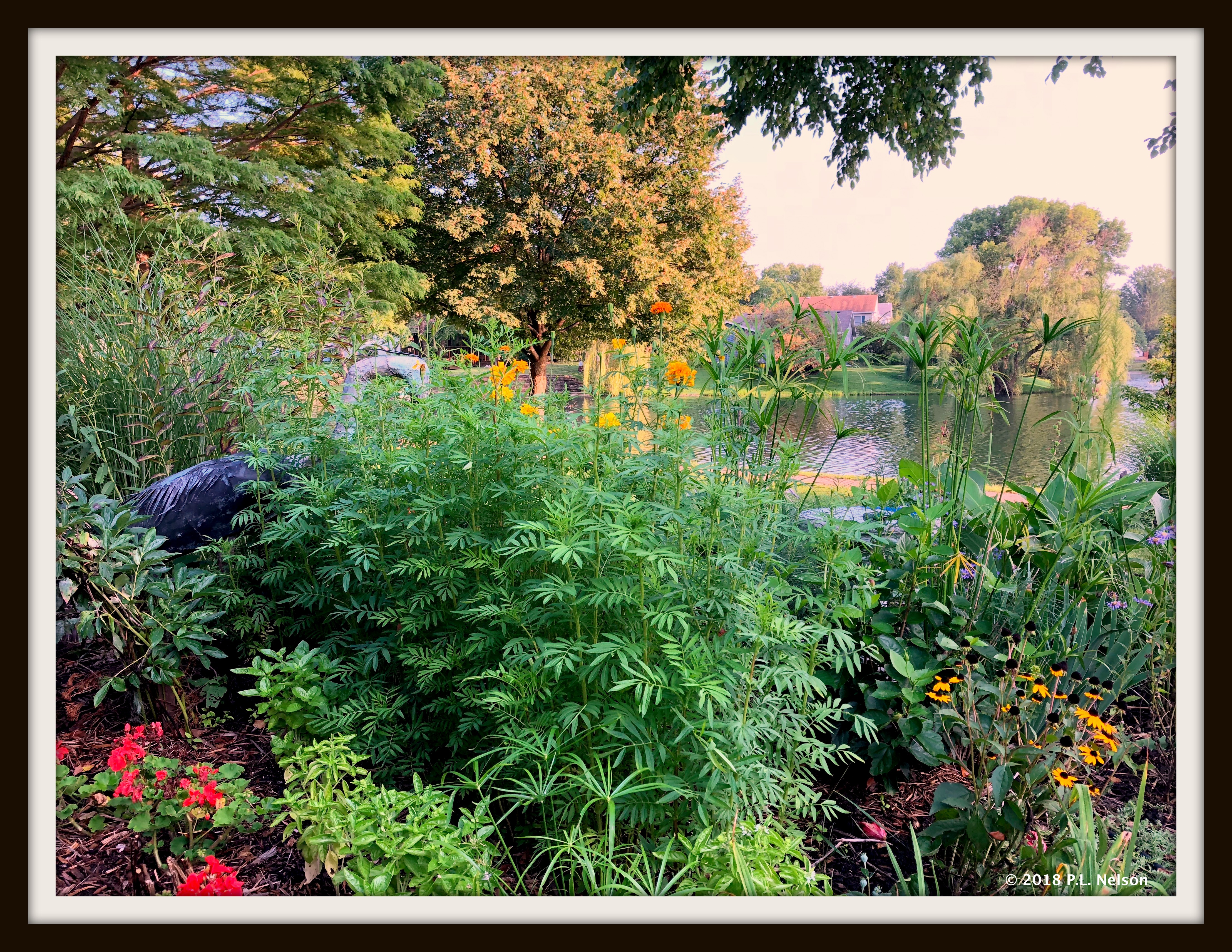 Putnam's Heron

        Toni Putnam's Heron sculpture hiding in the plants at a friend's house - another homage to Henri Rousseau.

---
Back to Blue Rose Foto home page